The Mortal Instruments; City of Bones by Cassandra Clare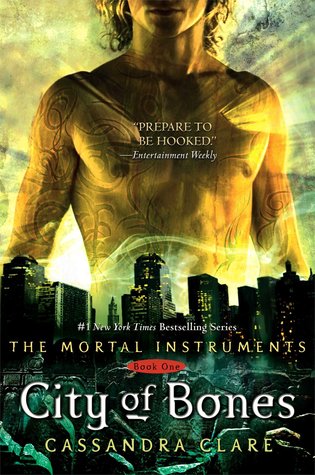 CITY OF BONES
BY CASSANDRA CLARE
PUBLISHED: 2007
AVERAGE RATING: 4.12
485 PAGES
★★★★☆
I started looking into The Mortal Instruments chronicles when I was younger, always wanting to read them I never really got the chance. I saw the movie, and thought that the book was probably just the same, how wrong one can be.
After christmas I went to my local bookstore and bought the four first books of the chronicle, and started the first book almost immediately, and I was so amazed by the way Cassandra Clare writes, how you can see what happens to Clary (the protagonist) when she finds out about the Shadow World and what lives inside it. It's been a really long time since I read a book with this many turns and twists, action filled scenes with vampires, werewolves, the Nephilin's, it's so exciting, and here's why.

When fifteen-year-old Clary Fray heads out to the Pandemonium Club in New York City, she hardly expects to witness a murder― much less a murder committed by three teenagers covered with strange tattoos and brandishing bizarre weapons. Then the body disappears into thin air. It's hard to call the police when the murderers are invisible to everyone else and when there is nothing―not even a smear of blood―to show that a boy has died. Or was he a boy?

This is Clary's first meeting with the Shadowhunters, warriors dedicated to ridding the earth of demons. It's also her first encounter with Jace, a Shadowhunter who looks a little like an angel and acts a lot like a jerk. Within twenty-four hours Clary is pulled into Jace's world with a vengeance, when her mother disappears and Clary herself is attacked by a demon. But why would demons be interested in ordinary mundanes like Clary and her mother? And how did Clary suddenly get the Sight? The Shadowhunters would like to know...
Cassandra Clare is extraordinary good at writing detailed descriptions of what happens, when you read the books you can smell the taste the air has, the way the floor feels under someone's feet feel like, you can see the people in front of you so clear it's almost a little scary. I really liked Clary from the start, she was this smart girl who liked to paint and for so many reasons I felt like I could really connect with this character. Then we had Jace, a Nephilin (Half angel, half human), who joked his way through the books with awesome comments and witty comebacks, and with his golden hair and strong muscles we kind of saw ourselves holding his waist while riding a motorcycle.
There aren't many characters in this book, we have the Institute, which is where the Nephilin's of New York live (Jace, Alec, Isabelle and their teacher Hodge), we have Clary, her mother Jocelyn, Dorothea and Jocelyn's old friend Luke. Simon, Clary's best friend gets dragged into this mess of the Shadow World, and what once seemed like a blossoming relationship between them got totally screwed up in the process. We have the Warlocks, the men of The City of Bones, we have vampires, a pack of werewolves, and last there is Valentine, the evil Nephilin who wants the Cup in order to change humans into Nephilin's so that he can kill the Downworlders (which pretty much means every creature except humans and Nephilin's).
I think that the reason why this book works so good is because of the small pond of important characters, we don't get lost in a ocean of names, and we kind of carry on through the book, knowing a lot about the few characters. Like the fact that Hodge, the Nephilin's teacher, has a bird called Hugin, or that Alec and Isabelle are siblings, we get to know that Jocelyn is not the woman Clary thought she was - and there are so many details in this 500-page book that you'll be amazed and quite pleased to know that it's worth reading every page of it.
As we speak, I'm going to start the second book; City of Ashes, and I'm so excited to get to know the Nephilin world even better, and this time, the pages aren't that many. I hope you'll enjoy it as much as I did, and that you'll leave a comment below if there's anything you're wondering about!
Alec , Book Review , Cassandra Clare , City of Bones , Clary Fray , Jace , Nephilin , The Mortal Instruments , Valentine