All the Bright Places by Jennifer Niven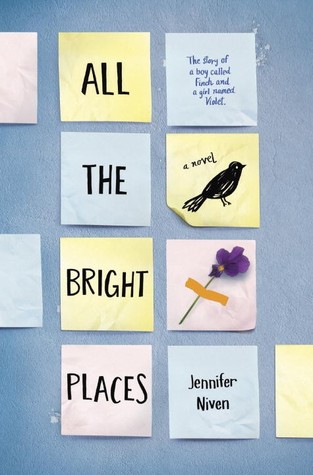 ALL THE BRIGHT PLACES
BY JENNIFER NIVEN
PUBLISHED: 2015
AVERAGE RATING: 4.20
400 PAGES
READ: JULY 29TH - JULY 31ST 2015
★★★★☆
I started this book with no expectations. I'd seen hundreds of instagram posts about this book being cute and heartbreaking, and I was like; well, let's see about that. So I picked it up on a beach in Platanias, Crete - and finished it two days later with tears in my eyes.
All The Bright Places is about Theodore Finch and Violet Markey - two very different people with one thing in common; they're both surrounded by death. While Theodore searches for it, Violet has seen it up close. They become the most unlikely friends, and it turns out that they have more in common that they kind of thought.
I loved this book, I can't hide my appreciation for feelgood books, and this was absolutely one of them. It might not be the typical love story that makes you smile at the end, but it makes you think, and that's something I absolutely love about books. The thought you have when finishing them. Also, Theodore was so likable, while Violet kind of crept closer and closer to me during the time I read it. I won't forget this book and there's a big chance I'm going to read it again some time.
As for the story I feel like it goes into some of the typical storylines of YA books. The shy love that becomes great and massive in a very short amount of time - they fall in love and nothing else matters. While this book does that in a slightly different way, making us kind of fall in love with the characters themselves before we fall in love with their relationship - I have to say that it was kind of typical. For some reason it felt like reading the Fault in our Stars, just without the cancer.
Jennifer Niven is a really good writer, and I love her style of writing. It inspired me, and made me more aware of the really important theme about this book, which I'm not going to tell you because that'll just ruin it for you.
All the Bright Places , Book , Book Review , Jennifer Niven , Review