Tuesday TBR
A new Tuesday and a new TBR list, this time I think there'll be some books that most people maybe haven't heard about, but that I found through one of the people I follow on goodreads' read-list.

The first book is MAKING FACES by AMY HARMON. Because sometimes I just love to read a good romance in between all the other Sci-Fi stuff I normally read.


Published 2013
Average rating on goodreads: 4.41
405 pages
And it is a romance, YA, Contemporary book.
Ambrose Young was beautiful. He was tall and muscular, with hair that touched his shoulders and eyes that burned right through you. The kind of beautiful that graced the covers of romance novels, and Fern Taylor would know. She'd been reading them since she was thirteen. But maybe because he was so beautiful he was never someone Fern thought she could have...until he wasn't beautiful anymore.
The next one is
THE SEA OF TRANQUILITY by KATJA MILLAY
Published 2012
Average rating on goodreads: 4.39
380 pages
And it's also a romance, YA, contemporary book.
I live in a world without magic or miracles. A place where there are no clairvoyants or shapeshifters, no angels or superhuman boys to save you. A place where people die and music disintegrates and things suck. I am pressed so hard against the earth by the weight of reality that some days I wonder how I am still able to lift my feet to walk.
Full of rage and without a purpose, former pianist Nastya Kashnikov wants two things: to get through high school without anyone discovering her past and to make the boy who took everything from her pay.
All 17 year-old Josh Bennett wants is to build furniture and be left alone, and everyone allows it because it's easier to pretend he doesn't exist. When your name is synonymous with death, everyone tends to give you your space.
Everyone except Nastya, a hot mess of a girl who starts showing up and won't go away until she's insinuated herself into every aspect of his life. The more he gets to know her, the more of a mystery she becomes. As their relationship intensifies and the unanswered questions begin to pile up, he starts to wonder if he may ever learn the secrets she's been hiding or if he even wants to.
The Sea of Tranquility is a slow-building, character-driven romance about a lonely boy, an emotionally fragile girl, and the miracle of second chances.
The third book is
THE GLASS ARROW by KRISTEN SIMMONS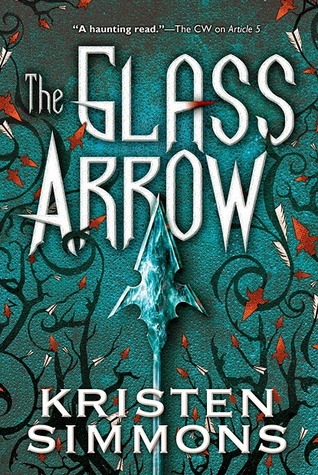 Published 2015
Average rating on goodreads: 3.65
336 pages
This is a YA, Dystopia, Sci-Fi, Fantasy and Romance book
Goodreads link
In a world where females are scarce and are hunted, then bought and sold at market for their breeding rights, 15-year old Aya has learned how to hide. With a ragtag bunch of other women and girls, she has successfully avoided capture and eked out a nomadic but free existence in the mountains. But when Aya's luck runs out and she's caught by a group of businessmen on a hunting expedition, fighting to survive takes on a whole new meaning.
And the last book of this Tuesday tbr is
THE END GAME by T. MICHAEL MARTIN
Published 2013
Average rating on goodreads: 3.53
369 pages
This is a YA, Zombie, Horror, Sci-Fi, Dystopian book
Seventeen-year-old Michael and his five-year-old brother, Patrick, have been battling monsters in The Game for weeks.
In the rural mountains of West Virginia, armed with only their rifle and their love for each other, the brothers follow Instructions from the mysterious Game Master. They spend their days searching for survivors, their nights fighting endless hordes of "Bellows"—creatures that roam the dark, roaring for flesh. And at this Game, Michael and Patrick are very good.
But The Game is changing.
The Bellows are evolving.
The Game Master is leading Michael and Patrick to other survivors—survivors who don't play by the rules.
And the brothers will never be the same.
amy harmon , katja millay , kristen simmons , making faces , t. michael martin , The end game , the glass arrow , the sea of tranquility , Tuesday TBR