103 Books I want to read (pt. 2)
Part 2 is all about contemporary books!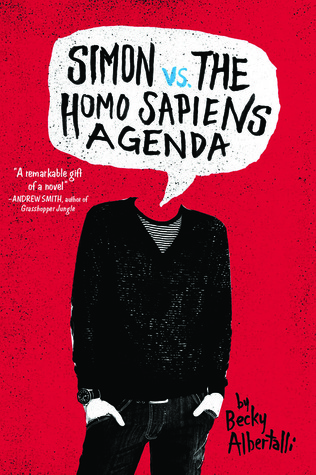 SIMON VS. THE HOMO SAPIENS AGENDA by Becky Albertalli
Average rating: 4.27
Genres: Contemporary, YA, GLBT, Romance
Published: 2015 (Balzer + Bray)
Sixteen-year-old and not-so-openly gay Simon Spier prefers to save his drama for the school musical. But when an email falls into the wrong hands, his secret is at risk of being thrust into the spotlight. Now Simon is actually being blackmailed: if he doesn't play wingman for class clown Martin, his sexual identity will become everyone's business. Worse, the privacy of Blue, the pen name of the boy he's been emailing, will be compromised.
With some messy dynamics emerging in his once tight-knit group of friends, and his email correspondence with Blue growing more flirtatious every day, Simon's junior year has suddenly gotten all kinds of complicated. Now, change-averse Simon has to find a way to step out of his comfort zone before he's pushed out—without alienating his friends, compromising himself, or fumbling a shot at happiness with the most confusing, adorable guy he's never met.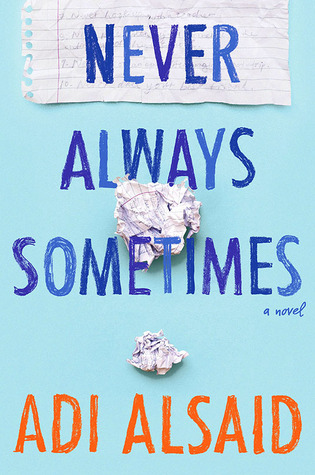 NEVER ALWAYS SOMETIMES by Adi Alsaid
Average rating: 3.38
Genres: YA, Contemporary, Romance
Published: 2015 (Harlequin Teen)
Never date your best friend.
Always be original.
Sometimes rules are meant to be broken.
Best friends Dave and Julia were determined to never be cliché high school kids—the ones who sit at the same lunch table every day, dissecting the drama from homeroom and plotting their campaigns for prom king and queen. They even wrote their own Never List of everything they vowed they'd never, ever do in high school.
Some of the rules have been easy to follow, like #5, never dye your hair a color of the rainbow, or #7, never hook up with a teacher. But Dave has a secret: he's broken rule #8, never pine silently after someone for the entirety of high school. It's either that or break rule #10, never date your best friend. Dave has loved Julia for as long as he can remember.
Julia is beautiful, wild and impetuous. So when she suggests they do every Never on the list, Dave is happy to play along. He even dyes his hair an unfortunate shade of green. It starts as a joke, but then a funny thing happens: Dave and Julia discover that by skipping the clichés, they've actually been missing out on high school. And maybe even on love.
A MAN CALLED OVE by Fredrik Backman
Average rating: 4.30
Genres: Humor, Contemporary
Published: 2012
Meet Ove. He's a curmudgeon, the kind of man who points at people he dislikes as if they were burglars caught outside his bedroom window. He has staunch principles, strict routines, and a short fuse. People call him the bitter neighbor from hell, but must Ove be bitter just because he doesn't walk around with a smile plastered to his face all the time?
Behind the cranky exterior there is a story and a sadness. So when one November morning a chatty young couple with two chatty young daughters move in next door and accidentally flatten Ove's mailbox, it is the lead-in to a comical and heartwarming tale of unkempt cats, unexpected friendship, and the ancient art of backing up a U-Haul. All of which will change one cranky old man and a local residents' association to their very foundations.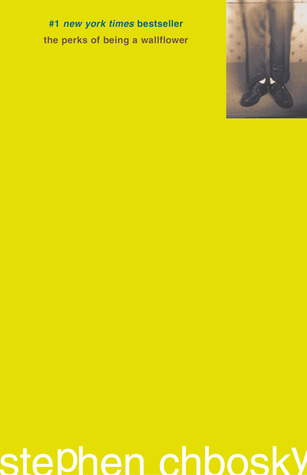 THE PERKS OF BEING A WALLFLOWER by Stephen Chbosky
Average rating: 4.20
Genres: YA, Contemporary, Romance
Published: 1999 (MTV Books)
Charlie is a freshman.
And while he's not the biggest geek in the school, he is by no means popular. Shy, introspective, intelligent beyond his years yet socially awkward, he is a wallflower, caught between trying to live his life and trying to run from it.
Charlie is attempting to navigate his way through uncharted territory: the world of first dates and mix tapes, family dramas and new friends; the world of sex, drugs, and The Rocky Horror Picture Show, when all one requires is that perfect song on that perfect drive to feel infinite. But he can't stay on the sideline forever. Standing on the fringes of life offers a unique perspective. But there comes a time to see what it looks like from the dance floor.
Owned: Yes
EXTREMELY LOUD AND INCREDIBLY CLOSE by Jonathan S. Foer
Average rating: 3.96
Genres: Contemporary, Historical Fiction
Published: 2006 (Mariner Books)
Nine-year-old Oskar Schell is an inventor, amateur entomologist, Francophile, letter writer, pacifist, natural historian, percussionist, romantic, Great Explorer, jeweller, detective, vegan, and collector of butterflies. When his father is killed in the September 11th attacks on the World Trade Centre, Oskar sets out to solve the mystery of a key he discovers in his father's closet. It is a search which leads him into the lives of strangers, through the five boroughs of New York, into history, to the bombings of Dresden and Hiroshima, and on an inward journey which brings him ever closer to some kind of peace.
Owned: Yes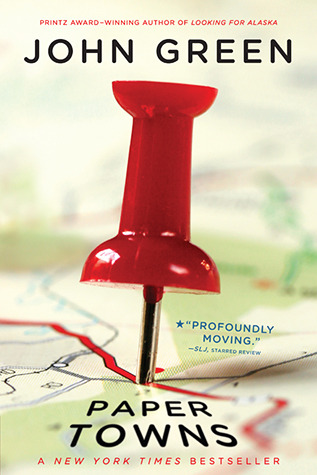 PAPER TOWNS by John Green
Average rating: 3.94
Genres: Contemporary, YA, Adventure, Humor
Published: 2008
Who is the real Margo?
Quentin Jacobsen has spent a lifetime loving the magnificently adventurous Margo Roth Spiegelman from afar. So when she cracks open a window and climbs into his life—dressed like a ninja and summoning him for an ingenious campaign of revenge—he follows. After their all-nighter ends, and a new day breaks, Q arrives at school to discover that Margo, always an enigma, has now become a mystery. But Q soon learns that there are clues—and they're for him. Urged down a disconnected path, the closer he gets, the less Q sees the girl he thought he knew...
Owned: Yes
IF HE HAD BEEN WITH ME by Laura Nowlin
Average rating: 4.14
Genres: YA, Contemporary, Romance, Realistic Fiction
Published: 2013
If he had been with me everything would have been different...
I wasn't with Finn on that August night. But I should've been. It was raining, of course. And he and Sylvie were arguing as he drove down the slick road. No one ever says what they were arguing about. Other people think it's not important. They do not know there is another story. The story that lurks between the facts. What they do not know—the cause of the argument—is crucial.
So let me tell you...
Owned: No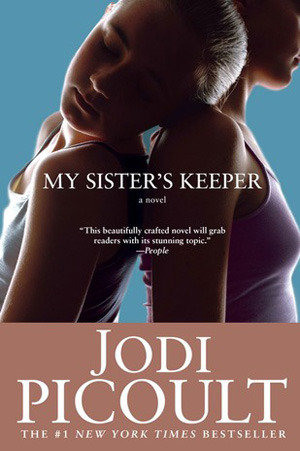 MY SISTER'S KEEPER by Jodi Picoult
Average rating: 4.05
Genres: Contemporary, Chick-Lit, Drama YA
Published: 2004
Anna is not sick, but she might as well be. By age thirteen, she has undergone countless surgeries, transfusions, and shots so that her older sister, Kate, can somehow fight the leukemia that has plagued her since childhood. The product of preimplantation genetic diagnosis, Anna was conceived as a bone marrow match for Kate -- a life and a role that she has never challenged... until now. Like most teenagers, Anna is beginning to question who she truly is. But unlike most teenagers, she has always been defined in terms of her sister—and so Anna makes a decision that for most would be unthinkable, a decision that will tear her family apart and have perhaps fatal consequences for the sister she loves.
Owned: No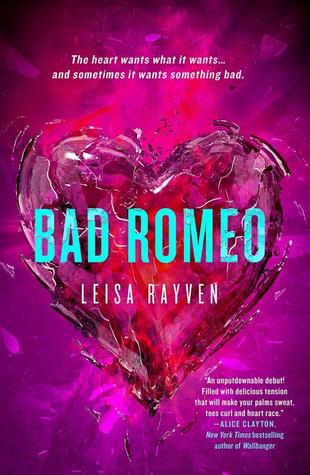 BAD ROMEO by Leisa Rayven
Average rating: 4.16
Genres: Romance, New Adult, Contemporary
Published: 2014
When Cassie Taylor met Ethan Holt at acting school, sparks flew. She was the good girl actress. He was the bad boy about campus. But one fated casting choice for Romeo and Juliet changed it all. Like the characters they were playing, Cassie and Ethan's romance seemed destined. Until he broke her heart and betrayed her trust. Now the A-list heartthrob is back in her life and turning her world around. One touch at a time.
Cast as romantic leads once again, they're forced to confront raw memories of the heartbreaking lows and pulse-pounding highs of their secret college affair. But they'll also discover that people who rub each other the wrong way often make the best sparks.
Owned: No
ELEANOR & PARK by Rainbow Rowell
Average rating: 4.14
Genres: YA, Romance, Contemporary
Published: 2013
Goodreads Choice Winner 2013
Eleanor... Red hair, wrong clothes. Standing behind him until he turns his head. Lying beside him until he wakes up. Making everyone else seem drabber and flatter and never good enough...Eleanor.
Park... He knows she'll love a song before he plays it for her. He laughs at her jokes before she ever gets to the punch line. There's a place on his chest, just below his throat, that makes her want to keep promises...Park.
Set over the course of one school year, this is the story of two star-crossed sixteen-year-olds—smart enough to know that first love almost never lasts, but brave and desperate enough to try.
Owned: Yes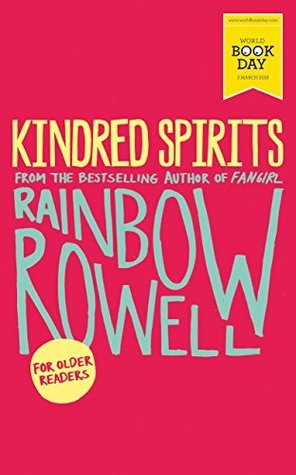 KINDRED SPIRITS by Rainbow Rowell
Average rating: 4.06
Genres: YA, Contemporary, Short Stories, Romance
Published: 2016
'Everybody likes everything these days. The whole world is a nerd.'
'Are you mad because other people like Star Wars? Are you mad because people like me like Star Wars?'
'Maybe.'
If you broke Elena's heart, Star Wars would spill out. So when she decides to queue outside her local cinema to see the new movie, she's expecting a celebration with crowds of people who love Han, Luke and Leia just as much as she does. What she's not expecting is to be last in a line of only three people; to have to pee into a collectible Star Wars soda cup behind a dumpster or to meet that unlikely someone who just might truly understand the way she feels.
Owned: No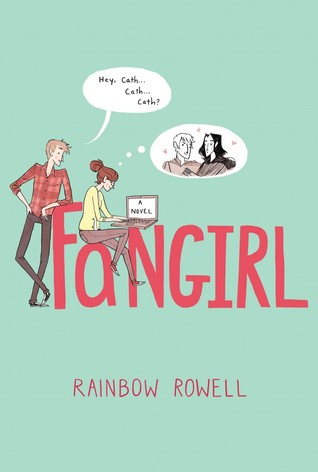 FANGIRL by Rainbow Rowell
Average rating: 4.17
Genres: YA, Contemporary, Romance
Published: 2013
Cath is a Simon Snow fan.
Okay, the whole world is a Simon Snow fan...
But for Cath, being a fan is her life—and she's really good at it. She and her twin sister, Wren, ensconced themselves in the Simon Snow series when they were just kids; it's what got them through their mother leaving.
Reading. Rereading. Hanging out in Simon Snow forums, writing Simon Snow fan fiction, dressing up like the characters for every movie premiere.
Cath's sister has mostly grown away from fandom, but Cath can't let go. She doesn't want to.
Now that they're going to college, Wren has told Cath she doesn't want to be roommates. Cath is on her own, completely outside of her comfort zone. She's got a surly roommate with a charming, always-around boyfriend, a fiction-writing professor who thinks fan fiction is the end of the civilized world, a handsome classmate who only wants to talk about words... And she can't stop worrying about her dad, who's loving and fragile and has never really been alone.
For Cath, the question is: Can she do this?
Can she make it without Wren holding her hand? Is she ready to start living her own life? Writing her own stories?
And does she even want to move on if it means leaving Simon Snow behind?
Owned: Yes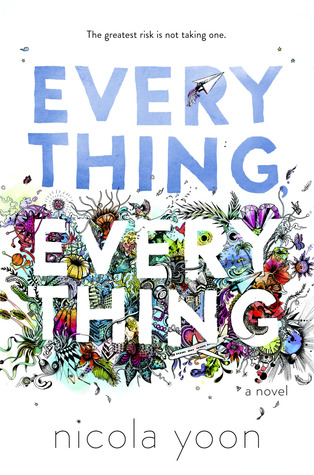 EVERYTHING EVERYTHING by Nicola Yoon
Average rating: 4.04
Genres: YA, Contemporary, Romance
Published: 2015
My disease is as rare as it is famous. Basically, I'm allergic to the world. I don't leave my house, have not left my house in seventeen years. The only people I ever see are my mom and my nurse, Carla.
But then one day, a moving truck arrives next door. I look out my window, and I see him. He's tall, lean and wearing all black—black T-shirt, black jeans, black sneakers, and a black knit cap that covers his hair completely. He catches me looking and stares at me. I stare right back. His name is Olly.
Maybe we can't predict the future, but we can predict some things. For example, I am certainly going to fall in love with Olly. It's almost certainly going to be a disaster.
Albertalli , Alsaid , Backman , Chbosky , Foer , Green , Nowlin , Picoult , Rayven , Rowell , TBR , Yoon